Welcome to Affect Issue, your weekly dose of commentary on a brand new medical examine. I am Dr F. Perry Wilson of the Yale College of Medication.
Immediately I'm going to let you know the only greatest query you may ask any physician, the one which has saved my butt numerous occasions all through my profession, the one that each attending doctor ought to be asking each intern and resident after they current a brand new case. That query: "What else may this be?"
I do know, I do know — "While you hear hoofbeats, assume horses, not zebras." I get it. However typically we get so good at our jobs, so good at recognizing horses, that we cease asking ourselves about zebras in any respect. You see this in a phenomenon referred to as "anchoring bias" the place physicians, when introduced with a prognosis, are inclined to latch on to that prognosis based mostly on the primary piece of knowledge given, taking note of knowledge that help it and ignoring knowledge that time in different instructions.
That particular query, "What else may this be?", breaks via that barrier. It forces you, the medical group, everybody, to undergo the train of actual, old style differential prognosis. And I promise that for those who do that sufficient, sooner or later it would save somebody's life.
Although the idea of anchoring bias in medication is broadly understood, it hasn't been broadly studied till now, with this examine showing in JAMA Inner Medication.
This is the setup.
The authors hypothesized that there could be substantial anchoring bias when sufferers with congestive coronary heart failure (CHF) introduced to the emergency division with shortness of breath if the triage "go to motive" part talked about CHF. We're speaking concerning the refined distinction between the next:
Folks with CHF could be in need of breath for many causes. CHF exacerbation comes instantly to thoughts and it ought to. However there are clearly a lot of solutions to that "What else may this be?" query: pneumonia, pneumothorax, coronary heart assault, COPD, and, in fact, pulmonary embolism (PE).
The authors leveraged the nationwide VA database, permitting them to look at knowledge from over 100,000 sufferers presenting to varied VA EDs with shortness of breath. They then seemed for specific assessments — D-dimer, CT chest with distinction, V/Q scan, lower-extremity Doppler — that may counsel that the physician was desirous about PE. The query, then, is whether or not mentioning CHF in that little "go to motive" part would affect the chance of testing for PE.
I do know what you are considering: Not everybody who's in need of breath wants an analysis for PE. And the authors did a pleasant job accounting for a wide range of elements that may predict a PE workup: malignancy, latest surgical procedure, elevated coronary heart price, low oxygen saturation, and many others. In fact, a few of those self same elements may predict whether or not that triage nurse will write "CHF" within the go to motive part. All of these items should be accounted for statistically, and have been, however — the unofficial Affect Issue motto reminds us that "there are at all times extra confounders."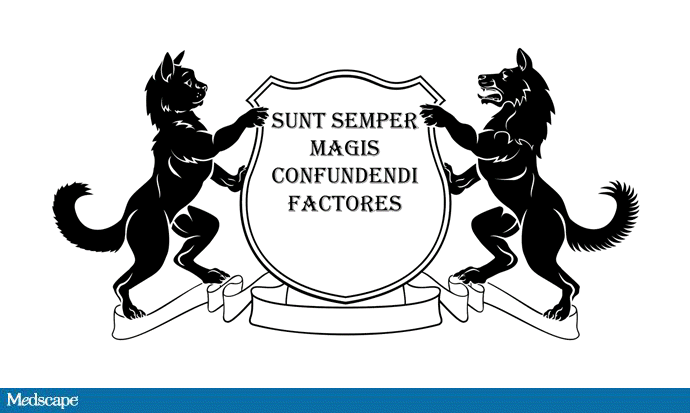 However let's dig into the outcomes. I'll provide the uncooked numbers first. There have been 4392 individuals with CHF whose go to motive part, along with noting shortness of breath, explicitly talked about CHF. Of these, 360 had PE testing and two had a PE identified throughout that ED go to. In order that's round an 8% testing price and a 0.5% hit price for testing. However 43 individuals, presumably not examined within the ED, had a PE identified throughout the subsequent 30 days. Assuming that these PEs have been current on the ED go to, which means the ED missed 95% of the PEs within the group with that "CHF" label hooked up to them.
Let's do the identical factor for these whose go to motive simply stated "shortness of breath."
Of the 103,627 individuals in that class, 13,886 have been examined for PE and 231 of these examined optimistic. So that's an general testing price of round 13% and a success price of 1.7%. And 1081 of those individuals had a PE identified inside 30 days. Assuming that these PEs have been really current on the ED go to, the docs missed 79% of them.
There's one different factor to note from the information: The general PE price (identified by 30 days) was principally the identical in each teams. That "CHF" label does not likely flag a gaggle at decrease danger for PE.
Sure, there are a lot of assumptions right here, together with that every one PEs that have been really there within the ED bought caught inside 30 days, however the numbers do paint an image. On this unadjusted evaluation, evidently the "CHF" label results in much less testing and extra missed PEs. Traditional anchoring bias.
The adjusted evaluation, accounting for all these PE danger elements, actually did not change these outcomes. You get almost the identical numbers and thus almost the identical conclusions.
Now, the primary lacking piece of this puzzle is within the thoughts of the clinician. We do not know whether or not they did not take into account PE or whether or not they thought of PE however thought it unlikely. And ultimately, it is clear that the overwhelming majority of individuals on this examine did not have PE (although I think not all had a easy CHF exacerbation). However this sort of evaluation is helpful not just for the empiric proof of the medical influence of anchoring bias however due to the truth that it reminds us all to ask that all-important query: What else may this be?
F. Perry Wilson, MD, MSCE, is an affiliate professor of drugs and director of Yale's Medical and Translational Analysis Accelerator. His science communication work could be discovered within the Huffington Publish, on NPR, and right here on Medscape. He tweets @fperrywilson and his new guide, How Medication Works and When It Does not, is on the market now.
Observe Medscape on Fb, Twitter, Instagram, and YouTube